---
CLASSIFIED ADS
ATTORNEY


San Jose Plaintiff's firm is seeking an associate
with 2+ yrs.exp. handling cases, from initial pleadings through trial. Must have law and motion plus deposition exp. as well as litigation
experience.

Email resume to zbarakat@swlegalgrp.com
ATTORNEY


Busy Sacramento area general practice law firm seeks full-time Associate Attorney. Experience preferred. Areas of practice: Criminal, Civil, Family Law, Probate, Trusts.

Please FAX resume to 916-652-7380.
Emails will not be open due to viruses.
CAREER OPPORTUNITIES WITH NHEH
Litigation Associate Attorney


Monterey County's leading AV-rated firm seeks a litigation associate attorney who possesses civil litigation experience. The associate will work with and be mentored by experienced litigation partners, but also given significant responsibility, and client contact. The position will involve drafting pleadings, discovery, motion and trial practice.

Trusts & Estates Associate Attorney


Associate with 3-5 years of experience. The position will be part of our growing estate planning, conservatorship, litigation and trust/estate administration practice. The associate will be given significant responsibility for matters, including client contact. Responsibilities include drafting estate plans, administering trusts, probates, conservatorships, and related matters. Candidate must possess excellent organizational, verbal, analytical and interpersonal skills and have an upbeat approach to their law practice. Experience working in a collaborative environment with a demonstrated ability to handle multiple responsibilities is encouraged. It is expected that the associate will develop and maintain a high level of professional expertise and practice visibility, participating in the Monterey County Bar Association and community activities. We offer a high-level practice and collegial atmosphere with competitive salary and benefits.

Employment Law Associate Attorney


Law firm seeks a lawyer with 3-5 years of experience in employment law. Some experience in employment litigation is desirable. This is an excellent opportunity for an ambitious, hardworking lawyer to continue with the development of the firm's employment practice, working closely with highly experienced mentors, with the freedom for personal and professional growth. Competitive compensation, benefits and quality of life will make this position very attractive for the right candidate.
100 percent Company paid benefits, medical, dental and vision insurance for attorneys/associates, Annual gym/club dues, Bonus Pay. Send resume and cover letter to Casey Merritt, Executive Director, Noland, Hamerly, Etienne & Hoss, PO Box 2510, Salinas, CA, 93902 or

email: cmerritt@nheh.com
ATTORNEY
Plaintiff's Personal Injury Firm seeking
an Experienced Trial Attorney


• Min. 5-7+ yrs of extensive litigation exp. in PI.
• Experience handling large volume of PI cases
& proven track record of success.
• Strong case management including writing,
communication & deposition skills.
• Skilled on depositions, pleadings, motions &
discovery
• Min. 5+ Jury Trials to verdict.
• $200k Salary + Bonuses

Qualified Candidates should e-mail resume,
writing sample & salary requirements to
zbarakat@swlegalgrp.com
Personal Injury Attorney


Bakersfield Rodriguez & Associates, a Bakersfield personal injury law firm, seeks a full-time associate attorney. Excellent writing and communication skills required. Please submit cover letter, resume, and writing sample to:
Paralegal/Office Manager/Bookkeeper


in Gilroy CA for small law practice, time and pay negotiable, prior law office, WordPerfect, Word and Quicken experience desirable.
Resume deadline 2/7/22. Calendar management skill critical. Interview by appointment Phone (408) 842 - 3144, E-mail jsimoni@garlic.com

align="center" style="margin-bottom: 1px;"> Websitejvslaw.net
ATTORNEY


Imperial County - The Office of Plourd and Breeze is recruiting an entry level associate offering an exciting and learning opportunity for a challenging career in criminal defense work. The firm has a contract to provide indigent criminal defense services on felonies to the Imperial County Superior Court. Call (760) 352-3130

Email address: plourd-breeze@sbcglobal.net
Antitrust Attorney


Lieff Cabraser Heimann & Bernstein, LLP, the leading national plaintiff-side class action litigation firm with more than 100 attorneys, seeks a lateral attorney in San Francisco to join our thriving and collegial antitrust practice. Our diverse team of antitrust attorneys have successfully challenged cartels and monopolies in the pharmaceutical, high technology, electronic component, and medical industries on behalf of consumers, hospitals, local governments, and small businesses. Associates have lead roles in cases, investigating cases, consulting closely with clients, taking and defending depositions, writing and arguing motions and appeals, working with experts, participating in trials and mediations.
For nearly fifty years, Lieff Cabraser has represented only plaintiffs in some of the highest-profile cases in the United States, recovering billions of dollars for our clients. We strive daily to achieve justice for our clients, and seek similar-minded attorneys to join our team.
The ideal candidate will have well-developed written and oral advocacy skills. One to seven years' experience preferred. Lieff Cabraser offers a competitive salary and excellent benefits package, including comprehensive health benefits, generous paid annual vacation, parental leave, and a profit-sharing retirement fund.
Resumes in confidence to: Lin Chan, Hiring Partner, Lieff, Cabraser, Heimann & Bernstein, LLP, 275 Battery St., 29th Fl, SF, CA 94111.

Email: jobs@lchb.com
We are an Equal Opportunity Employer.
Visit us at http://www.lieffcabraser.com to learn about how we fight for our clients.
LITIGATION ASSOCIATE


Boutique Claremont business and entertainment litigation firm seeks 3-5 year associate with excellent legal research and writing skills.

Send resume to jr@arllp.com
SENIOR TRIAL COUNSEL


The City of Huntington Beach is seeking a dedicated individual to lead the City's trial and litigation efforts in all civil lawsuits. $143,000 - $191,630 Annually + excellent benefits. Apply by 2/1/2022 at http://www.huntingtonbeachca.gov/jobs
Deadline Extended to Apply for
Four State Bar Court Judges


Qualified candidates are being sought to fill four positions on the State Bar Court: two Review Department positions and two Hearing Department positions. The Review Department positions may be based in either San Francisco or Los Angeles and one will also serve as the Presiding Judge of the State Bar Court. One of the Hearing Department positions is based in Los Angeles, the other in San Francisco. The deadline to submit an application is 5:00 pm, January 31.
The State Bar Court is an independent, administrative arm of the California Supreme Court that makes recommendations to the Supreme Court on attorney discipline and admission. For more information, go to http://www.statebarcourt.ca.gov and click on Current Notices.
TRIAL ATTORNEY


AIG staff counsel in L.A. with option to work remotely. The attorney will handle all aspects of personal injury cases from inception through trial. Minimum of 5 years with trial experience
preferred. Email: Gay.Roberts@aig.com
CRIMINAL DEFENSE ATTORNEY


California's leading criminal defense firm is continuing to expand its presence statewide. Join us in our modern, tech-enabled approach to legal marketing, client acquisition, practice management, aggressive criminal defense and client communication. We are seeking full-time Criminal Defense Attorneys to join our Los Angeles & Orange County teams. For more information and to apply, visit: https://theklf.com/join-our-team/managing-attorney-ma/
Paralegal or Legal Secretary


Ventura County Estate Planning Law Office has an opening for legal secretary or paralegal. We are looking for someone to assist in drafting estate plans, handle trust administrations, probates and Medi-Cal. The successful candidate will have at least 1-5 years' experience.

Email resume to Vtasmbiz@gmail.com
• IN-DEPTH RESEARCH
• COMPELLING ANALYSIS
• WINNING STYLE
Top-quality motions, appeals by attorney/former investigative reporter/published scholar.
Responsive briefs a speciality.

Deadlines welcome. Andrew Krastins, Esq.
MOBILE (562) 208-9679
OFFICE (562) 436-6320
Akrastins@krastinslaw.com
inquiry@krastinslaw.com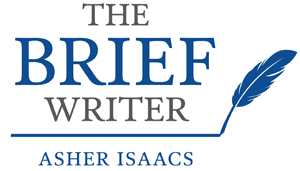 Asher D. Isaacs, Esq.
UCLA Law Review, Articles Editor
Ninth Circuit and U.S. District Court Clerkships
20+ Years of Experience
www.TheBriefWriter.com
asher@thebriefwriter.com * (310) 346-4216
Truck Accident Litigation


GET HELP with your truck accident case(s) from the author of

The Law of Commercial Trucking:
Damages to Persons and Property
Info at davidnissenberg.com